When I bought my Cool Blue MINI Cooper S Convertible "Blimey" in 2006, it met my criteria as (a) a fun car with (b) a convertible top and (c) a backseat that I could occasionally put two young kids into, when needed (7 and 10 at the time). He served me well as my daily driver for over 7 years and nearly 150k miles. In that time, my kids outgrew the back seat. I retired him earlier this year from daily duty, and he became my dedicated "fun" car.  You can read about much of his history at BlimeyCabrio.com
My love for driving, uh, SPIRITEDLY on twisty roads intensified. To the point of insanity. I knew that Blimey was (relatively) heavy and slow, with his awesome automatic convertible top, lots of extra steel to make that work, and auto tranny. But he was also an absolute blast to drive in the twisties. I decided that, in his retirement, he should be all he could be. And spend a lot more time on the track and on hill climb courses. 
Since the MINI Roadster was introduced, I've thought about what's right and wrong (to me) with those cars. It's a nice car, and I have friends who love theirs (and I want them to remain friends), but it's just not for me. I felt like the ultimate MINI roadster would be more like a cross between the 1st gen GP, and the 1st gen Cabrio. Two seater, high performance, cleaner lines than the cabrio with the top down (no go-kart back seat hoops), real roll-over protection, and have the shape of a MINI when the top is up.
So I decided to turn Blimey into one.
Now, it's not like he was stock or anything when I started this. I had done quite a bit of cosmetic and performance work on the car over the years. Blimey was quite a capable car in the twisties.
Here he is, with some of his friends, on the Cherohala Skyway a couple of years ago.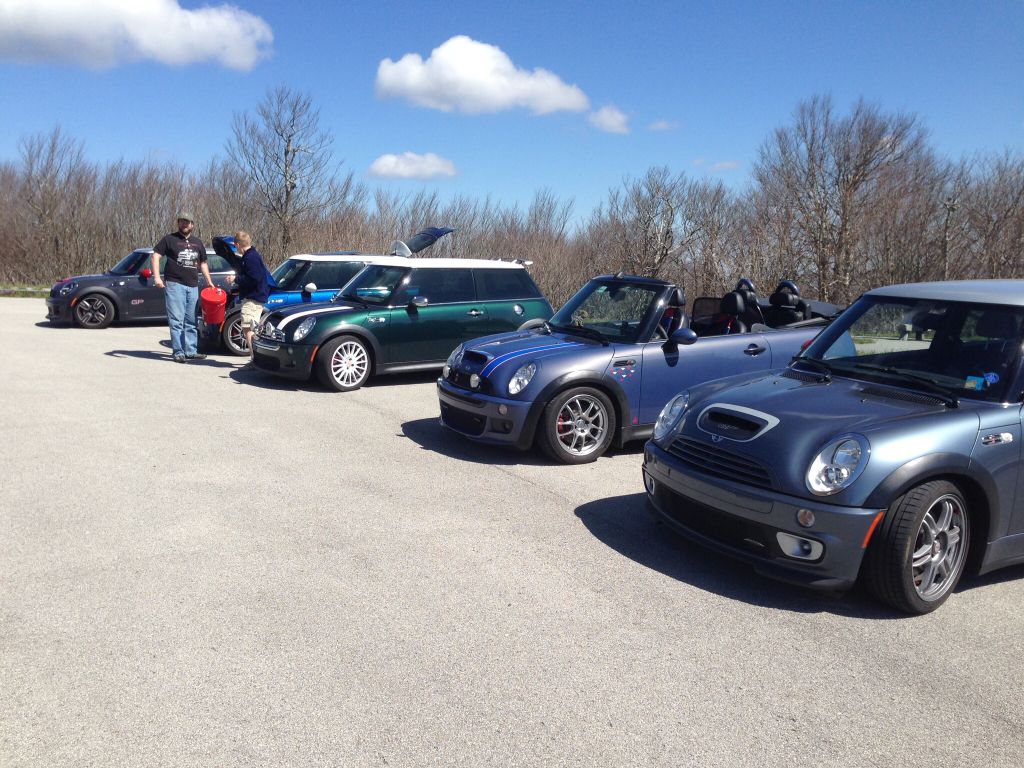 I began the process of turning Blimey into more of a dedicated track & twisties weekend car. Stripped the rear interior, had a custom roll bar fabricated and installed, etc.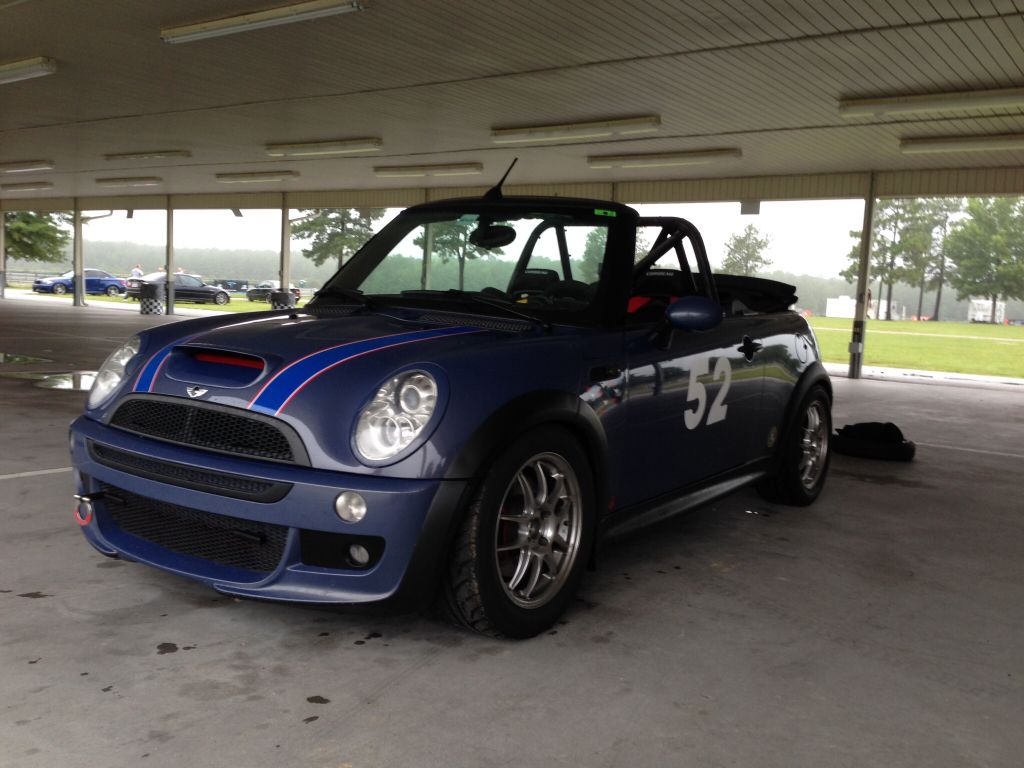 Then, the automatic transmission died. After a failed attempt at a rebuild, I decided to convert the car to manual. Which is not a normal thing. I couldn't find anyone else in North America who had successfully converted a 1st gen MCS to manual. So I did it.
There's a LOT different. The MCS Auto has the engine shifted a bit to the right to accommodate the larger transmission. So, engine mounts, axles, hoses, lines, engine harness, ECU, transmission, clutch, shifter, pedals… lots of stuff. The only way to do this cost-effectively is to get a manual donor car and swap lots of parts.
While looking for a donor car, I came across this: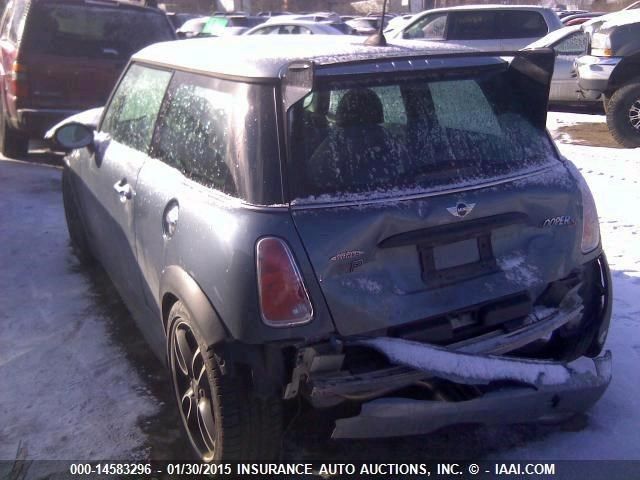 2006 MINI Cooper John Cooper Works GP0769, totaled, in Ohio. I figured if I needed a donor, and if my vision was to create a GP Roadster, then I needed an actual GP. And I'd save as much of this lost GP as I could, and stay as true to the heritage of the GP as I could.
So I won it at auction, and had it shipped to North Carolina.
I performed the manual swap (including ECU, and cluster / gauges / keys, etc.), plus swapped interior, and doors, cowl, A-panels (to replace banged up parts from a tire wall incident at CMP in the old car). Installed the GP side skirts. Sent the GP engine off to RMW in California to be built into a 1.8l stroker with big valve head, etc.
Ended up with this, and renamed the car Locutus (as it had been assimilated by "GPness").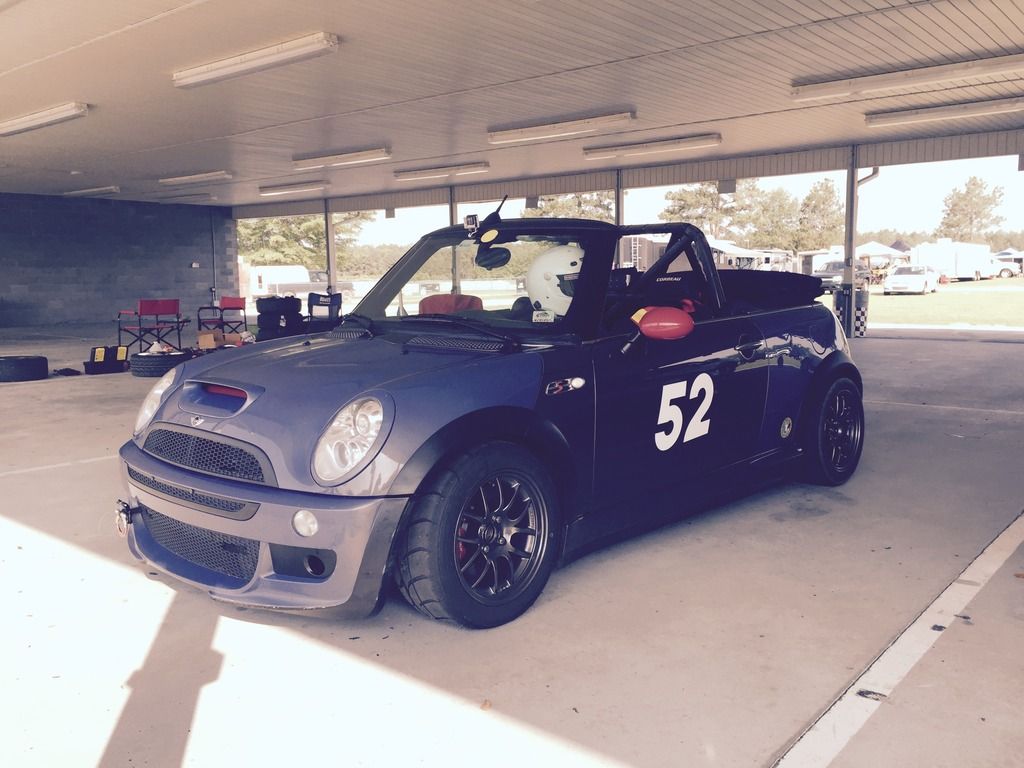 The stroker went in, along with an OSG LSD, and it was awesome:
Then, a bad thing happened, and that's where this chapter of the legend begins…