The Phoenix, GPR769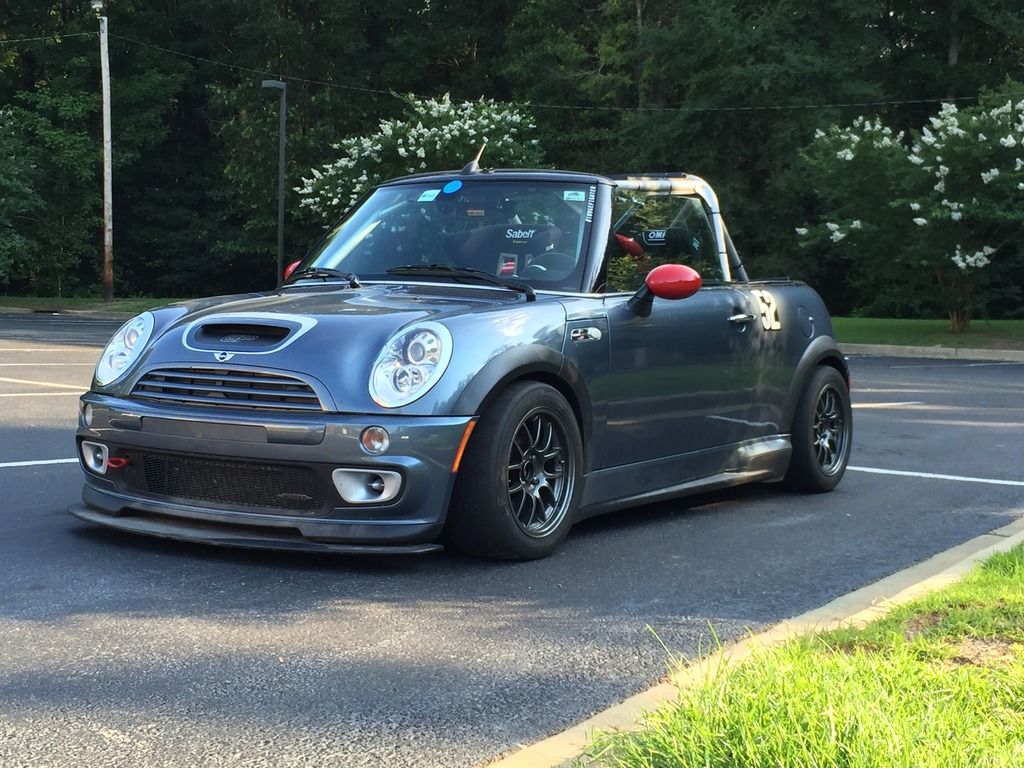 A car so mighty, it took three MINIs to make one.
All the good stuff from the Blimey cabrio and GP0769 (together, Locutus), combined on a virgin R52 chassis. Shooting for 350+whp, that can be flogged all day and all night at the track and in the twisties.
Engine / Performance:
RMW 1.8L stroker motor:
* Engine/head core from GP0769
* Bored and sleeved
* RMW billet stroker crankshaft
* RMW rods and forged pistons
* RMW baffled oil sump pickup
* RMW Stage II Big Valve Head w/27mm exhaust valves
* RMW Dominator high-lift cam
RMW TVS Supercharger Kit (coming soon):
* Harrop TVS 900 supercharger
* RMW billet SC inlet / outlet
* RMW front mount intercooler
* RMW billet intake manifold
* RMW teflon intake manifold gasket
* RMW 8-rib belt system w/ ATI damper and billet AC delete bracket/pulley
* Dual pass radiator
RMW 550cc injectors
RMW fuel rail w/high pressure FPR and return (coming soon)
DW Fuel Pump
Vipec engine management system (coming soon)
MINI factory ECU from GP0769 (for annual state inspections)
RMW Axles
OS Giken LSD w/ OSG fluid
OS Giken STR Clutch
Greene Performance Clutch Slave Cylinder
Pre-facelift long-gear transmission
Derale deck-mount remote oil cooler with dual fans and thermostat; RMW oil cooler adapter
Helix Short Shifter
MINI JCW intake w/AMSoil Nanofilter (flapless)
RMW long tube header w/Swain Tech White Lightning coating
Milltek exhaust w/custom mid section, v-band fittings and JCW exhaust tips (from GP0769)
Suspension / Brakes:
GP rear alloy trailing arms from GP0769
Greene Performance coilovers w/Swift 8kg/mm front / 9kg/mm rear springs
Greene Performance Camber/Caster plates
Hotchkis 25mm rear adjustable sway bar
Hotchkis front adjustable sway bar
Whiteline adjustable end links
Hotchkis upper and lower rear control arms
Powerflex black LCA bushings
Vibra-Technics engine mounts
GTT strut bar
Detroit Tuned front 16″ BBK w/Cryo treated rotors & custom brake ducts
2nd gen MINI rear calipers w/SP Performance rotors
Castrol SRF brake fluid
Carbotech XP10 F / XP8 R pads
Exterior:
Custom Thunder Blue repaint. All factory GP badges, vinyl, bumpers, trim, side skirts, under-body panels; some from GP0769
Full bonnet, front bumper, skirts and mirrors clear bra
Aerocatch Xtreme hood latches
RMW rigid front carbon fiber splitter
GP2 rear diffuser w/custom brackets and trim
Custom rear Lexan "duckbill" spoiler
MiniFini trailer hitch, for towing the track trailer
Custom rigid rear "tonneau cover" / deck lid
Custom bikini soft top
Custom removable hard top (coming soon!)
Custom height jack points
Interior/Safety:
Custom 6-point roll cage
Dash panels, door panels, gauges, pedals, shifter, dash pad from GP0769
Driver's seat: OMP HTE-R FIA halo seat, OMP low-rise steel brackets
Passenger seat (street): OMP Style tuner seat on MINI OEM slider base
Passenger seat (track): Sabelt Taurus halo seat, Sabelt steel brackets.
Schroth Hybrid / Profi II harnesses (6pt) w/ASM shoulder straps for 4pt street use
Dual Euro parcel shelves, modified to fit around roll cage
JCW leather/carbon/alcantara steering wheel, shift knob and brake handle
Redline black leather shift and brake boots w/red stitching
Outmotoring pedal covers
Custom diamond plate floor mats
Longacre 17″ convex race mirror
Helmet hook
Safecraft Halon fire extinguisher, BK cage mount
Dash-mounted emergency battery cut-off switch
Coolshirt 13qt cooler, lines and shirt with custom speed controller
Electronics:
MINI factory cabrio HK sound system, head unit modified to fit around roll cage knee bar
Dension bluetooth kit
Shift paddle cruise control hack (MFSW controls hidden)
Zeitronics sensor and gauge system with wideband O2, boost, EGT; boost/wideband gauge, digital display unit, data logger
DepoRacing oil pressure / oil temp / boost gauges
Auto-Blip
Craven gauge pods (modified)
Scan gauge II
Valentine One
ProClip and rollcage mounts for iPhone 6+
Deka ETX20L lightweight battery
Wheels / Tires:
949 6UL 15×8 w/Nitto NT-01 225/45R15 (track)
Kosei K4R 16×7.5 w/Toyo R888 225/45R16(street)
So what makes it a GP? 
Well, the chassis certainly doesn't have a GP VIN. Because they didn't make any of those in topless form. And you shouldn't just cut the roof off a tiptop, because the cabrio chassis has extra steel to make it stronger and stiffer.
But it does have quite a bit of content from the original GP0769… As much as I could save:
Engine and head (built into RMW 1.8l stroker)
Intercooler (soon to be replaced with RMW FMIC)
ECU / speedo cluster / tach / EWS (immobilizer module) / keys and lock cylinders
Transmission bell housing
Engine/transmission hard mounts
Assorted hoses, vacuum lines, brackets, and other engine/transmission related hardware
Alloy rear trailing arms
Shifter
Pedals
Steering column assembly
Dash trim panels w/GP0769 badge
Interior door panels and trim
Dash top pad

Brake booster / master cylinder

Right side skirt & sill plate

Black portion of left side skirt

Front bumper "splitter" trim

Parking lights, side scuttles, corner marker lights

JCW badges (F & R)

Windshield washer jets

Right window

L & R Door Mirrors

Parking brake & shifter cover trim

Cowl grilles

Wiper assembly

Air intake hose

Under body panels

JCW exhaust tips

Right taillight

Boot handle assembly

Rubber S floor mats

GP carpet floor mats
And the other parts it needed to make it look like a GP (front bumper cover, hood trim, rear bumper inserts, painted left side skirt, mirror caps, badges and vinyl, etc.) were purchased as new OEM parts.